DESIGN - BEHIND THE SCENES: KERIZCAKES
A few weeks ago I handed over my most recent design project to Kerry of Kerizcakes, and I'm absolutely delighted with the way her new logo and branding turned out. Kerry was looking to create a new look for her home-based cake and cupcake business so she could start to build up a more recognisable image and more professional look.
As always the first step for clients is to answer a short questionnaire to give me a better understanding of their business before I get started, and I also ask that they start collecting images into a Pinterest board to help with my initial 'Inspiration Board' layout. Some of the words Kerry used to descibe her business were modern, stylish and classy and she had also been Pinning a lot of purples, golds and florals, all of which I took through into the final board.
Following some further discussion I then went on to create three black and white logo options based upon the questionnaire and inspiration images.
I tried to focus on the modern and stylish look that the client was after by keeping the logos very clean and simple. I always start the design process by sketching in pencil and then move on to the computer, but always staying in black and white until we are happy with the overall layout as it is easy to be distracted by colour at this point.
The comments from the client were that she really liked option 2, with the cake on the stand, but would love some kind of circular element to the logo. So with these notes I went off to carry out the first round of revisions.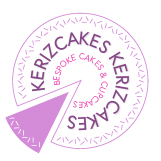 As sometimes happens, when I was making the revisions and looking at circular layouts that would work my brain stumbled across a new options of the cake in plan view with the slice out of it, and this is the design that we agreed on in the end!
Kerry was still eager to keep the cake on the stand so I created a main logo and an alternative logo which can be used in different situations. The cake image in the logo is really useful to use on other branding elements like packaging and paper headers, as it can be used without the text and still be recognisable. It can also be used in black and white, or a variety of colour options and still look 'on-brand'.
If you're interested in working together please get in touch using the contact form below and let me know you're interested. Then I'll be in touch to discuss further!